Dove Hill Trail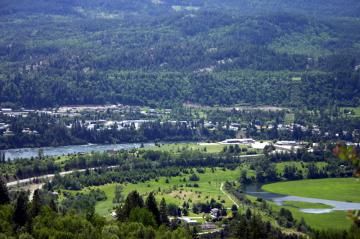 Detailed Description:
Dove Hill Trail is a short, moderate hiking trail in the community of Castlegar, BC located in the Kootenay region of British Columbia, Canada. The hiking route explores the hillsides and forests behind the community providing great views of the Kootenay River and the valley.

The Dove Hill Hiking Trail is a one way trail. It is about 2.8 kilometres long extending from a trailhead near the local golf course to a trailhead at the Brilliant Terminal Station. However, the distance to the lookout is only about 1.5 kilometres from the golf course trailhead.

The hiking trail follows a narrow single track trail into a forest. The pine needle cushioned trail continues climbing through the trees and low lying shrubs via a series of switchbacks. The hiking trail soon breaks from the tree cover and emerges out onto a dry grassland hill. The trail is gravel now and the switchbacks continue.

Just ahead are two lookout points. One is the Dove Hill and the other is the Surry Hill Lookout. From the lookout the trail continues down the backside of the hill to the Brilliant Terminal Station. Along the way to the station is another route called the Elk Cutoff Trail - which can act as a loop route leading hikers back to the same parking lot via a different route with different views.

Along the trail is a sitting bench for either resting after hiking a few switchbacks or for enjoying the unobstructed views of the valley below. From the sitting bench and lookouts the views include the Kootenay River, Highway 3a Bridge and community of Castlegar, BC.

Be well prepared with plenty of drinking water, a hat and good foot wear as the trail is exposed to direct sunlight once out of the trees. There are some pit toilets at the Brilliant Terminal Station.

Dove Hill Trail, Castlegar, BC in the Kootenays of British Columbia, Canada