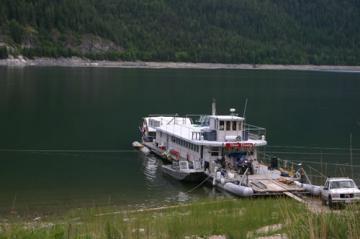 Park Amenities
:





Lower Arrow Lake is a man-made reservoir lake on the Columbia River connecting with the community of Castlegar, British Columbia, Canada. The 90 kilometre long lake is part of a chain of waterways in the Kootenay region which includes Upper Arrow Lake, some dams and the mighty Columbia River.

Anchoring the southeast corner of Lower Arrow Lake is the community of Castlegar. It is here, in between the Selkirk & Monashee Mountains, where the Lower Arrow Lake and the Kootenay River merge and convert into the Columbia River.

Lower Arrow Lake is a popular summer destination for many activities including boating, swimming, sailing, canoeing, camping, wind surfing, birdwatching and fishing. The lake is well stocked with fish including rainbow, gerrard, kokanee and bull trout plus barbot and whitefish. There are some anchorage points near Syringa Park. The main boat launch accessing the lake is in Syringa Park.

On land, the south side of Lower Arrow Lake is a recreation destination for hiking, horseback riding, mountain biking and cross country skiing. The access route best used exploring the south side of the lake is the Boundary Pathway Trail. Vehicles are not permitted to explore on this side of the lake.

On the north side of Lower Arrow Lake is a paved road leading to Syringa Creek Provincial Park. The park is one of the better places to access the lake from. There is a day use area, large parking lot and a boat launch.

The access road to the park also provides an opportunity to view some of the local wildlife like Bighorn Sheep. Be aware and alert as they are often on the side of the road. Continue onward, through the park and the road becomes gravel leading to Deer Park.

Lower Arrow Lake, Castlegar, BC Canada in the Kootenays