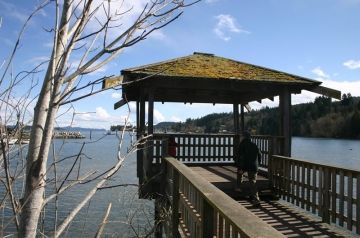 Park Amenities
:







Centennial Park is located in the Village of Ganges on Salt Spring Island, BC, Canada. Salt Spring is part of the southern Gulf Islands Group on the west coast of British Columbia, Canada.

The waterfront park enjoys large grass lawns, shaded trees and marine views of the harbour. It is a meeting and greeting place on the island for locals and visitors alike. The Salt Spring Island park is also within walking distance of the many shops and boutiques located in Ganges Village.

Centennial Park is a popular location for relaxing, lunches, sightseeing and outdoor events. During the summer months the park is the home to a farmers market, art shows, events and festivals.

Within the park is a wooden lookout viewpoint with far reaching views of the marina and coastline. There is a playground for children, some sitting benches, a covered picnic area, a bandstand, washrooms, flower gardens, statues and monuments located throughout the park.
Centennial Park, Salt Spring Island, Gulf Islands, BC, Canada (Saltspring Island)