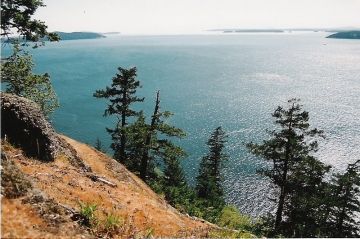 Park Size:
100 hectares
Difficulty:
Moderate
Park Amenities
:

Mount Norman Park is a day use park located on South Pender Island popular for mountain views and hiking. The Pender Islands are part of the southern Gulf Islands Group located off the west coast of British Columbia, Canada.

Mount Norman is one of the most popular mountain hikes on the islands. It is the highest point on the Pender Islands measuring 244 metres. The summit is an ideal destination for individuals who are seeking a birds eye view of the islands and the surrounding ocean channels.

Mount Norman Park measures over 100 hectares. It covers a large portion of South Pender Island. The mountain parkland consists of many various eco systems. The lower elevations are covered in forests of willow, fir and alder trees. The upper elevations consist of jagged bluffs, rocky cliffs and grassy knolls.

The hiking trail leading up to the summit is considered a challenging route. It should take 30 - 45 minutes to reach the peak. The trail ( part old logging road) traverses up the mountain to a wooden lookout platform. There are exposed tree roots and sections of loose rock along the route. There is a bench at the lookout.

From the lookout there are views looking west over Vancouver Island and Saltspring Island. Right below the lookout you can see Bedwell Harbour and North Pender Island. Wander away from the lookout and there is another beaten trail leading hikers to the east side of the peak and to more views overlooking Saturna Island and the mainland.

The park connects to another adventure destination on South Pender Island named Beaumont Park. The marine park is a popular recreation destination. Both Beaumont Provincial Marine Park and Mount Norman are part of the Gulf Islands National Park Reserve.

The services located in the park are few. There are pit toilets near the trailhead and that is about it. Pack out what you pack in . Leave no trace behind.
Mount Norman Park, South Pender Island, Gulf Islands, BC, Canada
Address:
Mount Norman Park
How To Get ToMount Norman Park
:
How to Get Here:
Travel to Pender Island in the Gulf Islands via a BC Ferry. Follow Canal Road over the wooden bridge that connects North and South Pender Islands. After the bridge turn onto Ainslie Point Road and continue to the park.
No reviews yet for Mount Norman Park.