Canada Day Concert 2020 – EH? Celebration of Music, People and Country

EH? Canada Day Concert Celebrations 2020
EH? Celebration of Country, Canadian Music, and Canadian People
12 All Star Musical Performers (Listed Below) – Birthday Wishes – Shout Outs – Virtual Fireworks
We have attended many Canada Day concerts and celebrations in our life time. However, when talking with our friends in tourism and in the entertainment industry, we find ourselves feeling more Canadian in 2020 than in past years. And, that my friends, is a very high bar for being Canadian.
If there ever was a time to celebrate being Canadian it is now, when it means the most. Because, in these challenging times, when change is confusing, is when we as Canadians need to buckle down and celebrate the best of Canada. We need to come together and celebrate. Covid 19 does not mean we forget to have fun, live life, and enjoy being a Canadian.
It is therefore, our pleasure, to host our first online Canada Day Concert! Joining us in celebrating Canada is an ALL STAR Cast of CANADIAN MUSICIANS (Listed Below) playing SOME songs, sharing some stories and wishing you all a Happy Canada Day. We have also included below descriptions of each artist, links to their websites, social media, and a You Tube video.
"Support our Canadian artists and order their albums, follow their social media, and, definitely, attend and support this event." Co Host Greg "Gug" Girard
Lets get as many Canadians and international friends gathered together online for this rockin' event and shake the internet to its core this Canada Day. To do so please share this page. Please talk it up on social media. Please attend.
Canada Day Concert Event Details
Date: July 1st, 2020
Format: @ehcanadatravel Facebook Live (Follow us so you do not miss the event notification)
Time: 6 PM (pst) until we run out of music
Online Broadcast Location: Somewhere Canada
Hosts : The "The Brothers of Tourism" Greg and Colin Girard
Program is a product of the EH? Travel Marketing Group (www.ehCanadaTravel.com)
Canada Day Concert 2020 Line Up
All Star Line Up of
Canadian Musicians
Ben Klick – Country Music Artist
Ben Klick is well known for his guitar-driven, modern country sound with his own unique traditional country music twist. Ben has been an award winner all his life and continues to be recognized as a top quality country entertainer. Winner of 4 British Columbia Country Music Awards, 5 International Country Music Awards, a Top 40 Under 40 Business Excellence Award, Young Entrepreneur of the Year Award recipient, and an Okanagan College Distinguished Young Alumni. Website | Facebook | Instagram | You Tube
Me and Mae – Country Rock Band
Me and Mae is the quintessential old school country rock band with a rockish sound. The band is known for their big vocals (think Eagles) and their southern guitar artistry (think Lynyrd Skynyrd). This fast up and coming Canadian band are winners of the BCCMA Ray McCauley Horizon Award and Group of the Year two years in a row. Website | Facebook | Twitter | Instagram | You Tube
Kenny Hess – Traditional Country Music Artist and Songwriter
14 critically acclaimed CDs to his credit. Kenny Hess has also been nominated for Canadian Country Music Awards, and has won several BC country music awards including Male Vocalist of the Year, and Album of the Year. Kenny is the 8 time Traditional Country Artist of the Year and in 2010 Kenny was honoured with the Entertainer Life Time Achievement Award. In 2015 Kenny was inducted into the Country Music Hall of Fame. Website | Facebook
Nigel Mack – Blues
Nigel McKenzie is part of the Nigel Mack & The Blues Attack Band. Raised in Saskatoon Saskatchewan and now based in the "Blues Capital of the World" Chicago, IL – Nigel Mack & the Blues Attack have toured all over North America, Europe and headlined top blues venues throughout the world. Website | Facebook | You Tube
Mike Sanyshyn – Canada's Country Fiddler
Mike was named the BC provincial Champion 4 times, placed in the top 3 at the Canadian Grand Masters Fiddling Championships, the best finish ever for a BC fiddler to date. He has played with many distinguished and well respected artists like the Edmonton Symphony Orchestra, Alan Jackson, Merle Haggard, Shania Twain, Ian Tyson, Randy Bachman, Johnny Reid and Luke Bryan. Website | Facebook | You Tube
Karen Lee Batten – Country Music Artist
Karen Lee Batten is the recipient of 6 BC Country Music Awards for Female Vocalist of the Year. Karen was a Top 10 finalist on Canadian Idol in 2003, and went on to release her debut album Every Moment in 2006. Her last album, Cause a Scene, was released in June 2014, and hit #1 in Canadian album sales and #40 on Billboard Soundscan in the first month. Website | Facebook | You Tube | Twitter
Aaron B. Thompson – Folk and Indie Rock
New up and comer Canadian songwriter and artist Aaron B. Thompson. Aaron's sound has been described as a mix of Damien Rice with Scott Helman. Aaron's soulful and heartfelt sound has been recognized as a cross between folk and indie rock. Website | Facebook
Ed Peekeekoot – Instrumentalist, Singer, Songwriter, and Story-Teller
Ed is a world renown Cree musician and artist who hails from the Ahtahkakoop Cree First Nation in Saskatchewan. Ed is considered a very talented multi-instrumentalist, singer-songwriter, and story-teller. Ed's performances keep you jumping as he nails down his blazing guitar solos, foot stomping fiddle and his haunting flute. Ed entertains both with song and story keeping with his Cree humor and philosophy. Website | Facebook
With Special Guest Ice Bear – Ice Bear's huge public art works (created between 1992 and 2001) have been extensively covered by local media, been front page photos and TV and newspaper headlines several times. Chris has also received the 1999 Community Arts Award runner up prize for the contribution he and his public art made to the Capital region. Website | Facebook
Ill Tone – Rap Artist
ILL TONE is a high-energy hip hop artist from Vancouver Island, Canada. He has toured in 9 countries, appearing on venues with such acts as Tech N9ne, Xzibit, Talib Kweli, Rakim, Maestro Fresh Wes, Snak the Ripper, Merkules and Pete Rock & CL Smooth, among others. Website | Instagram | Facebook | You Tube
(Video contains some sensitive content and profanity) However no profanity content will be on our show.
Bobby Garcia – Traditional Outlaw Country Music
Singer and songwriter, Bobby Garcia, is another up and coming country music artist to watch. Already playing festivals throughout British Columbia, Bobby enjoys performing his original songs and the outlaw side of country music with his band Six More Strings. Website | Facebook | You Tube
Jackson Hollow – Bluegrass Band
Jackson Hollow is a newly-formed 4 piece bluegrass band. And man, can this band play and sing. The band are winners of the BC Country Music Association Traditional Country Artist of the Year 3 times. Website | Facebook
International Guest – Donny Grubb Band – Southern Country Music Band
We first experienced the southern country sounds of the Donny Grubb Band at the Rockin River Music Festival in 2018 in Merritt British Columbia Canada. Donny hails from the Hitching Post in Apache Junction Arizona, United States of America. Donny plays venues and festivals in North America and also has a You Tube show where he sits down with the musicians who drop by to play at the Hitching Post.
Website | Facebook | You Tube | Twitter
International Birthday wishes sent to Canadians from our friends in the United Kingdom and Australia.
Ged Brown of Low Season Traveller (United Kingdom)
Carolyn Childs of My Travel Research (Austalia)
And we are proud to introduce you to Whitney Williams who sings O Canada. Some of you may recognize Whitney as she has sung the anthem at the opening of some of the Vancouver Canuck games in the National Hockey League (NHL).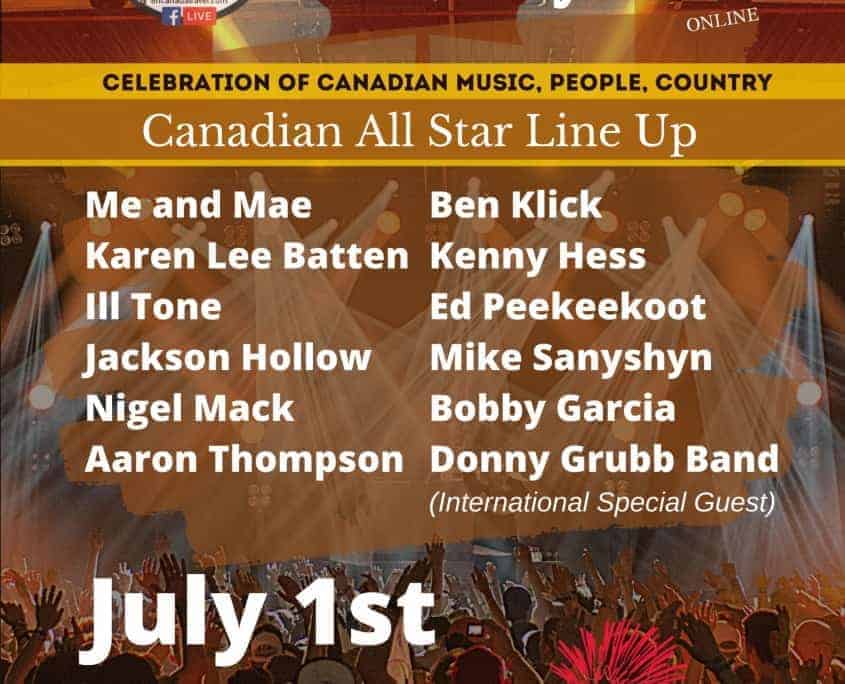 Shop Local, Staycations, Explore Your Backyard, Support Your Community
"Leave No Tourism Business Behind"
18,000+ pages & 16,000+ photos/videos
ehCanadaTravel.com
FOLLOW US TOO WOULD BE A CANADIAN THING TO DO: @ehcanadatravel

Small Town Canada Community Consultant / Co Founder at eh Canada Travel
Greg Girard is a co founding brother of the award winning adventure and travel website and blog ehCanadaTravel.com. Greg is also a top ranked Canadian travel blogger who enjoys public speaking, and working with as many small and rural Canadian communities as possible. Greg is an avid outdoor enthusiasts and amateur photographer who enjoys backpacking, road trips, wilderness camping, snowboarding and what he calls hacking (what others would call golf).
Top 20 Canada Travel Websites to Watch – FeedSpot (ehCanadaTravel.com)
#23 Top 1000 Global Travel Bloggers – Global Rise
Best Canadian Blogger — Expertido
#4 Top 60 Canadian Travel Bloggers – BlogSpot
#7 Top 100 Canadian Travel Bloggers – Flight Network
FEATURED ON: CBC, Canada.com, Huffington Post, Nature Conservancy of Canada, TravelTV.com, Travel Industry Today, Cottage Life Magazine, Yukon Life, TAPS Magazine, HUB Magazine and many community public
https://www.ehcanadatravel.com/blog/wp-content/uploads/2020/06/canada-day-2020-1.jpg
1260
2240
Greg "Gug" Girard
https://www.ehcanadatravel.com/blog/wp-content/uploads/2020/01/ehcanada-logo-340x156-1.png
Greg "Gug" Girard
2020-06-27 19:05:56
2020-06-28 15:31:01
Canada Day Concert 2020 – EH? Celebration of Music, People and Country