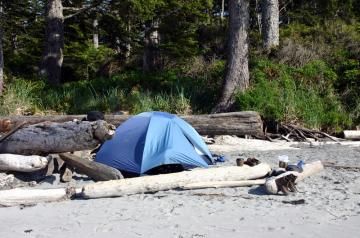 Trail Length:
250 metres
Difficulty:
Easy - Family
Park Amenities
:



Sombrio Beach is located near Sooke BC on Vancouver Island, Canada. The cobblestone and rocky beach is part of the Juan de Fuca Marine Trail. The beach is posted at the 29 kilometre along the trail. The beach can be accessed for non backpackers and surfers via a 250 metre trail from the parking lot on Highway #14.

Sombrio Beach is one of the windier beaches on the coast. Because of the wind and currents the beach is a top spot attracting surfing enthusiasts to the area.

There are 3 designated wilderness camping areas at Sombrio Beach for backpackers coming off the Juan de fuca Trail - East Sombrio, Main Sombrio and West Sombrio.

Sombrio Beach near Sooke, BC on Vancouver Island
How To Get ToSombrio Beach
:
How to Get Here:
Sombrio Beach is 58 kilometres west of Sooke along Highway 14.
No reviews yet for Sombrio Beach.