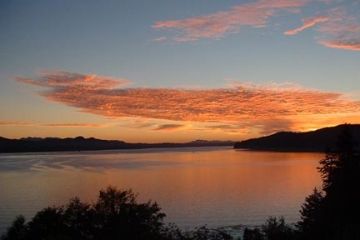 Trail Length:
5 kilometre
Difficulty:
Moderate
Park Amenities
:


Beautiful Bay Trail is the most challenging and rugged trail located on Malcolm Island, British Columbia, Canada. Malcolm Island is situated off the northern east coast of Vancouver Island near the community of Port McNeill, BC.

The Beautiful Bay Trail is a moderate hike along an earthy trail with exposed tree roots, some hills and protruding boulders. The 5 kilometre route explores through the island's forest leading to hill tops with views of the surrounding ocean waters. The most popular viewpoint are the Malcolm and Numas Lookouts.

Some of the highlights visited along the route include the lookouts, a 212 ft high Sitka Spruce, Puoli Vali Canyon and of course Sandy Beach. The many beach exits, at various points along the trail, and the ever-changing tides provide hikers access to the island's waterfront. Using the beach access points allows hikers to create a scenic circle route.

Beautiful Bay Trail, Sointula, Malcolm Island, Northern Gulf Islands, BC, Canada
Address:
Beautiful Bay Trail
How To Get ToBeautiful Bay Trail
:
How to Get Here:
Travel Highway 19 to the community of Port McNeill on the north end of Vancouver Island, BC, Canada. In Port McNeill board the ferry to Sointula on Malcolm Island. Once on Malcolm Island proceed to north end of the island and Bere Point Park. The trailhead is located in the park.
No reviews yet for Beautiful Bay Trail.