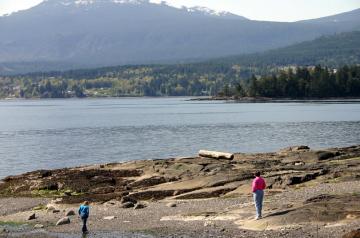 Park Size:
0.63 Hectares
Difficulty:
Easy - Family
Park Amenities
:



Elliott's Beach Park is a small pebbled beach located in the Cowichan Valley, northeast of Ladysmith, British Columbia, Canada on Vancouver Island. The beach park is situated in a small quiet bay, surrounded by rock outcroppings, in an area of Ladysmith referred to as Yellow Point. Yellow Point is just south of Nanimao, BC as well.

From the parking lot a short pebbled path leads down to the .63 hectare waterfront park. Amongst the pebbles are small crushed shells and dried seaweed strands. At low tide visitors can walk the flat rocks exploring the many exposed small tidal pools.

On the other side of the park is a pebbled beach and an underwater rock wall popular for scuba diving. There are various types of crabs, star fish, sea anenomes and sea cucumbers hidden along the rock wall.

The middle section of the park is all beach and driftwood logs. Behind the beach is a raised pebbled bank with a couple of picnic tables. The beach is also a popular destination for kayakers. Some kayak groups launch from the beach others arrive at the beach as part of a tour.

There is no boat launch here. Kayaks must be portaged down to the ocean from the parking lot. The pebbled parking lot is a fair size, but not large. Nearby there are pit toilets.



Address:
Elliott's Beach Park
How To Get ToElliott's Beach Park
:
How to Get Here:
Travel to the community of Ladysmith, BC on Vancouver Island. North of Ladysmith on Highway #1 is Brenton Page Road. Turn here. Brenton Page turns into Shell Beach Road. Continue down Shell Beach to the point. At the point look for Elliott Way. Turn here to the park.
No reviews yet for Elliott's Beach Park.