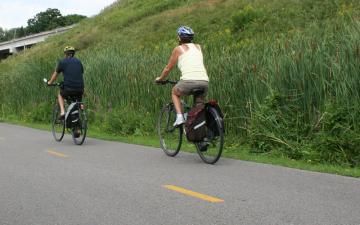 Trail Length:
20+ kilometres
Difficulty:
Easy - Family
Park Amenities
:



Parkway Trail

Take note bikers and cyclist of this gem of a paved trail in Nanaimo, BC on on Vancouver Island, British Columbia, Canada called The Parkway Trail. It is the most traveled pedestrian and biking trail - a transportation route and a connector route for moving around Nanaimo, BC.

The 20+ kilometre paved path connects south Nanaimo near Cedar to North Nanaimo near the ``Welcome to Nanaimo`` sign at Mary Ellen Drive. It is a multi purpose route used for biking, hiking, dog walking, roller bladding and jogging.

The recreation trail follows along Highway #19 for much of the way. Here and there it explores into the forest and leads to parks, dips under the highway through tunnels and over via bridges. Some of the parks to plan for on the trail or near the trail include the Colliery Dam Park, Buttertubs Marsh, Northfield Park and Brannen Lake.

Along the trail are viewing benches and some picnic tables. The parks on the route have washrooms or pit toilets. There are some parking areas located along the trail. A popular parking lot on the route is at the corner of Northfield Road and Highway #19 in North Nanaimo.
How To Get ToParkway Trail
:
How to Get Here:
Travel Hwy #1 and Hwy #19A to the community of Nanaimo. Along the highway you will see a paved trail. The south trailhead is near Extension Road in Chase River and the north trailhead is near the "Welcome to Nanaimo sign"
No reviews yet for Parkway Trail.