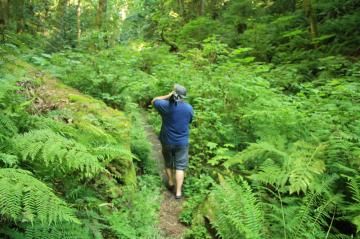 Park Size:
18 Hectares
Difficulty:
Easy - Family
Park Amenities
:






Eves Provincial Park is a "Class C" park located in Westholme, BC which is in an area called Crofton which is just couth of Chemainus, BC on Vancouver Island, Canada. The park is relatively a hidden gem, with little to no crowds, providing a network of hiking trails through a forest leading to a historic railway site, a rocky bluff, creek and pond.

The provincial park was once home to a railway right-of-way during the 1900s. It was used for transporting copper ore from Mount Sicker to the ocean port in, what is now, called Crofton. Throughout the park are information signs, a day use area, a nature centre and a section of the old rail line.

The park itself measures about 18 hectares. The John Lawson Nature Centre provides numerous displays, books and hands-on-activities for visitors.

A highlight of the park is the rocky bluff lookout located half way down the entrance road. From the bluff there are views of the valley below.



Address:
Eves Provincial Park
How To Get ToEves Provincial Park
:
How to Get Here:
Eves Provincial Park is located at 8107 Little Mountain Road in Westholme. From the Duncan drive the Trans-Canada Hwy north to Chemainus. Just before Chemainus take a right onto Mt. Sicker Road. From Mt Sicker turn onto Westholme Rd. and then Nimmo Rd and then on Little Mountain Rd. Continue to the parking lot and Nature Centre.
No reviews yet for Eves Provincial Park.