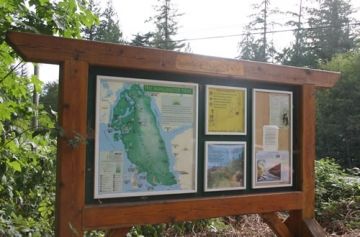 Trail Length:
33 kms
Difficulty:
Moderate
Park Amenities
:


Suncoaster Bike Trail is a thrilling mountain bike ride covering 33 km (20 mi.) stretching from Homesite Creek, near Halfmoon Bay, and continues through the hills of the Caren Range down to Klein Lake near the village of Earls Cove.

The partly forested route has been a destination for the mountain bike adventurer since the middle 1990's.The Suncoaster mountain biking route follows old rail beds, forested single track, BC Hydro service roads, along rocky cliffs and parts of Hwy 101. At the northern end of this adventure trail is where the best scenic points are found - views overlooking Ruby and Sakinaw Lakes and the 21.3 m (68 ft.) bridge by the waterfall crossing Sakinaw Creek.

This Sunshine Coast mountain bike trail is mostly covered in aggregate gravel with some highway biking sections. No worries though, the shoulders on the highway have been widened to make room for cyclists. All in all, the entire route should take about 5 -6 hours to complete. Not including time for picnics, extended scenic breaks or exploring side routes.

Suncoaster Bike Trail, Egmont, BC, Sunshine Coast Parks, Trails & Places
Address:
Suncoaster Bike Trail
How To Get ToSuncoaster Bike Trail
:
How to Get Here:
Follow Hwy 101 to Egmont and Earl's Cove located on the top portion of the southern half of the Sunshine Coast. The main starting points are found near Earls Cove & Egmont to Secret Cove. Many can access trail on Hwy 101 sections of the route. Can also access trail in Pender Harbour.
No reviews yet for Suncoaster Bike Trail.