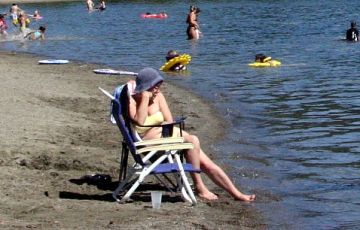 Park Amenities
:

Located on Cortes Island is a recreation lake named Hague Lake. The lake is a popular swimming hole, canoe lake, hiking area and beachcombing destination on the island. Along the shore of Hague Lake are some sandy beaches, hiking trails and great views. Power boats are not allowed on the lake.

Hague Lake is adjacent to another lake named Gunflint Lake. Located along the banks of both lakes are some sightseeing hiking trails called the Kw'as Trails.
Hague Lake Park (Kw'as Park), Cortes Island, Central Gulf Islands, BC, Canada
How To Get ToHague Lake
:
How to Get Here:
From the BC Ferry Terminal travel on Whaletown Road and take a right on Gorge Harbour Road. Continue to Seaford Road and take a left on Sutil Point Road and then a left again on Bartholomew Road. Continue and take another left on Haque Road and then a right on Kw'as Bay Rd and park.
No reviews yet for Hague Lake.