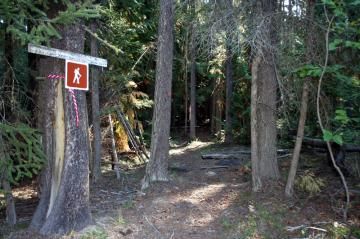 Trail Length:
50 kilometre
Park Amenities
:



Okanagan High Rim Trail is a long distance hiking, backpacking and snowshoe trail exploring along the eastern slopes of the Thompson Plateau from the community of Vernon, BC to Mission Creek. The 50 kilometre wilderness trail explores many diverse eco systems.

The trail provides, both, open air hiking with big views of the valley and shaded covered hiking exploring deep into the wilderness forests. At times the Okanagan High Rim Trail is well groomed and easy hiking along a wide path. At other times the trail is rough slogging along an unmaintained single-track path consisting of obstacles like fallen deadfall trees, exposed tree roots and sharp rocks. All in all, the trail should take no longer than 3-4 days to complete.

The Okanagan High Rim Trail crosses over exposed rocky slopes and explores forests of, mostly, western cedar and lodgepole pine trees. The route visits wetlands, creeks, alpine meadows, grasslands and fresh water lakes. Lakes like the Kalamalka, Oyama and James Lakes.

The Okanagan High Rim Trail is a long route which, occasionally, connects to active forest service gravel roads. It is these backcountry gravel roads that provide access points to the long distance trail. The numerous access points (or trailheads) makes it possible for creating shorter day hikes.

Wilderness camping is provided in designated campgrounds only. And some of the recreation campgrounds are not directly located on the trail but on the gravel logging roads connecting to the trail. At the campgrounds are pit toilets, fire pits and picnic tables.

The Okanagan High Rim Trail is well marked, in most cases, with directional signs and trailhead markers posted on the trail. The main north trailhead is located in Kalamalka Lake Provincial Park and the main south trailhead is located on Philpot Road off of Highway #33.

Okanagan High Rim Trail, Vernon, BC in the Okanagan Valley
ADDRESS
Okanagan High Rim Trail
,