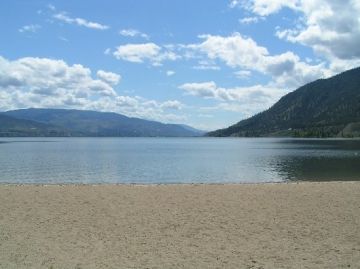 Park Size:
11 hectares
Park Amenities
:




Summerland B.C. 11 hectare Sun-Oka Beach Provincial Park is a popular beach destination for swimming, sunbathing, fishing, hiking, scuba diving, kayaking and picnicking. It was first established in 1969. The provincial park is one of the most visited public beaches in the Okanagan Valley because of the large day use area and sandy beach.

The 1 mile sandy beach is the big attraction of the Sun-Oka Beach Provincial Park. The park boosts one of the largest day use areas in the valley equipped with 90 picnic tables, a playground, washrooms, change rooms, boat launch and grass lawns. During the summer months there is a concession stand on site for drinks and snacks.

The lawns are decorated with trees providing shade during any sunshine days. The Sun-Oka Park was created to protect the Cottonwood trees in the park and the lake shore.

The trees and wetlands provide a secure area for wildlife including the Northern oriole, common loon, warbling vireos and the blue-listed Lewis's woodpecker.

Sun-Oka Beach Provincial Park, Summerland, BC, Okanagan Valley
Address:
Sun-Oka Beach Provincial Park
How To Get ToSun-Oka Beach Provincial Park
:
How to Get Here:
The Sun-Oka Beach Park is located 6 km south of Summerland BC on Hwy #97 near Trout Creek.
No reviews yet for Sun-Oka Beach Provincial Park.