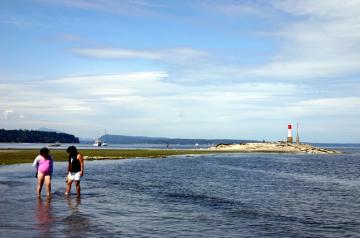 Park Amenities
:





Kin Park is a small ocean beach park located in the community of Chemainus, BC on Vancouver Island, British Columbia, Canada. The ocean park is a popular spot for beachcombing, sightseeing, picnicking, swimming and for launching a boat so to access one of the nearby islands.

The waterfront park includes a children's playground and sand box, a sandy beach, picnic tables, grassy lawns, change rooms and a paved boat launch. It is an ideal destination for sightseeing and birdwatching as there is a lot of marine action in front of this park.

From the shoreline one can see Bird Rock, Tent Island and a beacon sitting out on a point. Often on any given day during the summer there are boats and sailboats moored just off the coast.

At low tides the ocean waters recede revealing a marine playground of exploration including tidal pools and stranded sea shells. During low tide one can actually walk out to Bird Rock.

The park is within walking distance of downtown Chemainus and the Thetis Island Ferry Terminal. Just up the hill from the ferry terminal is a pathway leading back to Waterwheel Park.
How To Get ToKin Park
:
How to Get Here:
Travel to the community of Chemainus, BC on Vancouver Island. Travel towards the Thetis Island Ferry Terminal on Oak Street. On your left is Maple Street. Travel to Pine Street and the park is at the end of the street to the park.
No reviews yet for Kin Park.