Print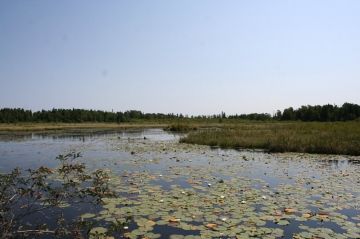 Trail Length:
2 kilometre
Difficulty:
Easy - Family
Park Amenities
:



Laura Howe Marsh is a wetland and mixed forest sightseeing destination ideal for walking and birdwatching. The marsh is located in Northwestern Ontario, Sunset Country in the community of Dryden.
Laura Howe Marsh is a shallow marsh measuring about 2 metres deep. The edges of the marsh are decorated in cattails, pondweeds, water lilies and assorted reeds.
The flora and fauna of the marsh attracts many wildlife species to the area. Many locals also visit the park for birdwatching opportunities.
The Laura Howe Marsh is a nesting, feeding and resting destination for birds. There are often sightings of red foxes, waterfowl, songbirds and predator birds.
Some of the birds sighted in the park include Great Blue Herons, American Bitterns, Blue-winged Teals, Marsh Hawks and Red-winged Blackbirds.
The best way to view the area is via the 2 kilometre (1.25 mi.) loop trail which circles around the marsh. The trail also explores the shores of the Wabigoon Lake and Partridge Island.
The loop trail is well signed and popular for walking, biking, birdwatching and sightseeing. The trail is a single lane dirt path with footbridges and viewing areas located along the route.
The Dryden Yacht Club is located on Partridge Island. The Laura Howe Marsh pathway connects to the yacht club. From the yacht club there are views of the floatplane base, river and boating activity. Some of the best sightseeing views are enjoyed from the yacht club.
One can access the Laura Howe Marsh via the Dryden Trail. The Dryden Trail is an ideal pathway to explore when sightseeing the community.
Explore Laura Howe Marsh, Dryden, Northern Ontario, Canada, Sunset Country
How To Get ToLaura Howe Marsh
:
How to Get Here:
Drive : Travel south from downtown Dryden, Ontario on Van Horne Ave. The entrance to the marsh is located on your right. The information kiosk in the parking lot marks the trailhead.
No reviews yet for Laura Howe Marsh.