Print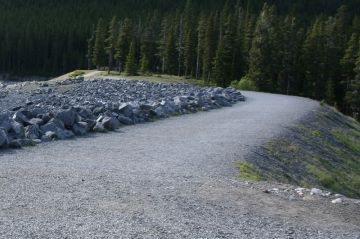 Trail Length:
22 km
Difficulty:
Easy - Family
Park Amenities
:




The Dyke Trails are activity trails which explore the farmlands and agricultural lands, in and around, the community of Abbotsford, British Columbia, Canada.
The trails follow a network of raised dykes which are used for irrigation of farmlands and for flood control. The dyke trails include the Arnold (7.3 Kilometres), Vedder and Sumas River (8 kilometres), Borrowtown (4.5 kilometres) and the Mackay (1.5 kilometres).
The dyke trails are double wide gravel routes which are very easy going, level and are exposed to the elements with little or no shade cover. There are little services so prepare well with water and protection from sun, rain and wind.
The gravel trails are very popular for hiking, mountain biking, birdwatching, horseback riding, jogging and dog walking.
The dyke trails explore an agricultural environment and various waterways. The trails pass by berry fields, dairy farms, produce farms, mushroom farms and horse ranches. Sometimes backcountry roads are necessary to connect with the dyke trails.
The two most popular dyke trails are the Arnold and Sumas/Vedder Trails.
The Arnold Dyke Trail measures about 7.3 kilometres one way. The route is flat, level and suitable for all ages. The trail explores pass farmland, pastures and agricultural businesses. The best access for the trail is in Hougen Park on Cole Road.
The Vedder/Sumas River Dyke Trail measures about 8 kilometres one way. The route is flat, level and suitable for all ages. The scenery includes views of Taggart Peak, Vedder Mountain and the Cheam Mountain Range. Most of the trail follows the Sumas River and Vedder Canal. Best access near Rod and Gun Club or Barrowtown Pump Station.
Explore Dyke Trails in Abbotsford, BC, Canada
How To Get ToDyke Trails
:
How to Get Here:
There are many access points to the dyke trails. Best access points with parking are located at Hougen Park, Arnold Road and the Barrowtown Pump Station.
No reviews yet for Dyke Trails.