Print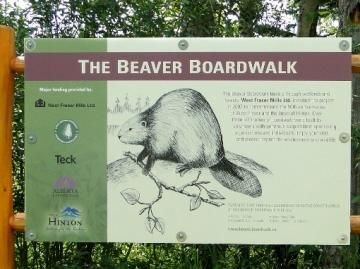 Park Size:
37 acres
Trail Length:
3 kms or 2 miles
Difficulty:
Easy - Family
Park Amenities
:





Beaver Boardwalk is located at the west end of Maxwell Lake in Hinton, Alberta. This 1.5 km wheelchair-accessible wood boardwalk winds through wetland and forest in a series of loops. The main loop travels along an active beaver dam and is a great place to see wild beavers in their natural habitat. An elevated observation tower overlooks the beaver lodge with the Rocky Mountains in the background.

The area is a local birding hotspot and a birdlist has been developed by the Whisky-jack club. Interpretive signs provide information on site about natural features and species found in the area.

Each September aspen branches are trucked to Maxwell Lake for the beavers to use for their winter food cache. Visitors can watch the beaver colony members take the branches and float them along a canal paralleling the boardwalk. The Boardwalk is accessible from both sides of Maxwell Lake and trails from upstream and downstream along Happy Creek Trail.
How To Get ToBeaver Boardwalk
:
How to Get Here:
The Beaver Boardwalk is located south of the junction of Highway 16 and Mountain Street in the Town of Hinton. From the junction, follow Mountain Street South 1.3 km and turn right at the second junction with Collinge Road. Drive West 150 metres, turn right and park in the Town of Hinton's parking lot. Walk 150 metres West along Colling Road and turn left at either end of the Maxwell Lake Apartments. The Beaver Boardwalk trailhead is behind the Apartments at the West end of Maxwell Lake.
No reviews yet for Beaver Boardwalk.