Print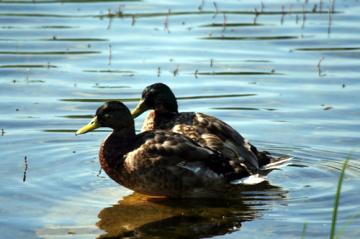 Park Size:
5000 hectares
Park Amenities
:


Big Grass Marsh (Jackfish Lake Nature Site) is a wildlife reserve and bird migration sanctuary located north of the community of Gladstone, Manitoba, Canada in the Central Plains Region of the province.

The Big Grass Marsh is a wetland protected site consisting of three lakes - Jackfish, Chandler and Seagull Lakes. Surrounding the lakes are sections of grassland prairie, sedge meadows, forest, marsh and man-made dykes.

The dykes and drainage canals of the marsh are used for controlling water levels in the wetland. Outside the parkland area are many hectares of farmland and grazing pastures supporting the agricultural industry in the region. Some of which, drain water from the wetland for producing crops.

The marsh was once a massive wetland area measuring over 41,000+ hectares (100,000 acres). In the early 1900s the marsh was drained dry for the production of crops by the settlers in the region.

Local groups and wildlife organizations combined their resources in the mid 1900s to replenish the marsh and revitalize the wetland environment. The wetland would never regain its pre 1900s levels, but their efforts did bring back to life a wetland which now measures about 5000 hectares.

The Big Grass Marsh is a protected wildlife reserve for migratory birds. The birds arrive at the marsh during migration to feed, nest and rest. The main bird species which visit the region every year during migration include ducks, gulls, geese and sandhill cranes.

The duck population in the Big Grass Marsh reaches levels of around 10,000 during the fall migration season. There have been over 16 species of ducks recorded in the marsh. Some of the duck species sighted include the Redhead, Ruddy, Ring-necked, Northern Shoveler, Northern Pintail and Gadwall.

The geese populations in the wetland area include Snow and Canada Geese. The spring and fall Snow Geese migrating season is a popular time for birdwatching as numbers can reach in the 100's of thousands. The population numbers can reach as high as 7% of the total Mid Continent population of Snow Geese.

The Big Grass Marsh is also a popular destination for large populations of Franklin's Gulls. Most arrive in the marsh for nesting and breeding.

The arrival of the Sandhill Cranes is also a popular birdwatching time of the year. As many as 6000+ cranes arrive every year on the northern end of the marsh near Jackfish Lake.

Big Grass Marsh , Jackfish Lake Nature Site, Gladstone, Manitoba, Canada
How To Get ToBig Grass Marsh
:
How to Get Here:
From the community of Gladstone, Manitoba travel west on Highway #16 (Yellowhead Hwy). Take a right onto Road #260 and continue north following the signs to Plumas. Near Plumas take a right onto Road #265 and travel east following the signs to Big Grass Marsh.
No reviews yet for Big Grass Marsh.