Clearwater Lake Provincial Park
Print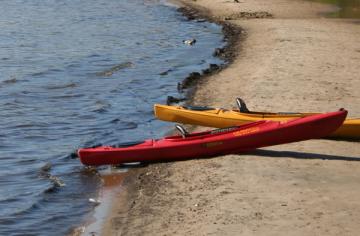 Park Size:
595 square kilometres
Park Amenities
:






Clearwater Lake Provincial Park is a recreation destination and a weekend get-away for many who visit and live in the northern region near the community of The Pas, Manitoba, Canada.

The Clearwater Lake Provincial Park measures about 595 square kilometres. Most of the parkland is taken up by a 16 kilometre long oval-like lake called Clearwater Lake. The remaining parkland is decorated with boreal forest, fens and wetland-like bogs. Together they are part of the Mid-Boreal section of the Manitoba Lowlands Natural Region.

Clearwater Lake is the highlight of the park. The north end of the lake is, mostly, undeveloped and accessed by boat. The south side of the park has road access and is developed with services like sandy beaches, day use picnic sites, boat launches, food service, playground, picnic shelters, campgrounds and lodge accommodations.

The campgrounds are located in Pioneer Bay and Campers Cove on Clearwater Lake. The day use sites equipped with picnic areas, beaches and swimming areas are located at Sunset Beach and near the campgrounds. There are change rooms at the beaches. Beaches are not supervised by lifeguards.

During the summer months the park is a busy destination for activity. The lake provides an opportunity for boating, wind surfing, canoeing, water skiing, swimming and fishing for lake trout, northern pike and whitefish. Other activities enjoyed in the park include camping, picnicking, sightseeing and hiking.

The main trail in the park is called the "Caves". It is a 0.8 kilometre long self guided trail leading to a group of large slabs of rock which have fallen from the dolomite cliffs located high above. The trails leads to boardwalk sections and stairs which explore the "Caves". Please stay on trail.

During the winter months the adventures alter and morph into xc skiing, snowmobiling, ice fishing and dog sledding. The main xc ski winter staging area is near Pioneer Bay. There are 8+ kilometres of loop xc ski trails and washrooms. To accommodate skiers there is a warming hut with woodstove and kitchen.

Snowmobile trails are located on the west side of the park and are, mostly, passing through the park. The trails connect to a large network of snowmobile trails located outside the park which connect to other parks and communities. The trail in the Clearwater Lake Park connects to the communities of The Pas, Wanless and Flin Flon, Manitoba.
Clearwater Lake Provincial Park, The Pas, Manitoba, Canada
Address:
Clearwater Lake Provincial Park
How To Get ToClearwater Lake Provincial Park
:
How to Get Here:
Travel to the community of The Pas, Manitoba. From The Pas continue to travel north along Highway #10 or Route #287 to the entrance of the park. Total distance from The Pas to the park is 19 kilometres (11.8 mi.).
No reviews yet for Clearwater Lake Provincial Park.