Print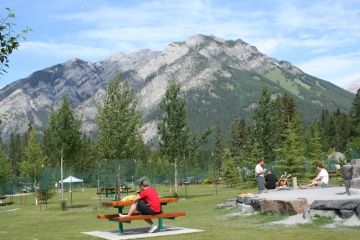 Difficulty:
Easy - Family
Park Amenities
:



Central Park is the main community park located on the banks of the Bow River in the Village of Banff, Alberta, Canada in the Banff National Park.

Central Park is located on the south end of Banff Village. There are sitting benches, art sculptures, picnic tables, grass lawns, an outdoor bandstand and a public washroom in the park. On the east side of the park is the Banff Park Museum - a National Historic Site of Canada.
This Banff, Alberta community park is easily accessible from the village and is, often, a major gathering and resting stop for sightseeing and relaxing when visiting Banff. The bandstand in the park is often used for community events and celebrations.
The Bow River Trail passes through Central Park. There are information signs, sitting benches and river access points located along the trail. There are good views of the Bow River Bridge and the local mountains from Central Park and the Bow River Trail.
Across the Bow River Bridge is the trailhead to the Bow Falls Trail. Following the Bow River Trail north from the park leads to the Fenland Trail. Walk south along the trail leads to Surprise Point and the Bow River-Hoodoo Trail.
Address:
Central Park - AB
How To Get ToCentral Park - AB
:
No reviews yet for Central Park - AB.