Canada Cottages, Cabins and Chalets

Canada cottages, cabins and chalets are available in every province and territory. There are rural and wilderness cottages and cabin accommodations situated on the shores of lakes, on the banks of a rivers, on the edge of a mountains and on ocean coastlines.
Cottage Country
There are urban cottages operating within cities, villages and towns. And there are many clusters of Canadian cottages and cabins operating as resorts. There are so many cottages in various provinces and territories in Canada that there are regions referred to as Cottage Country.
Large variety to choose from
Canada cottages, chalets and cabins vary is style, size, amenities, price and quality. They vary from basic to elegant - from a rustic trappers cabin to a ritzy mountain chalet.
There are simple cabins with no power, no phone, no cell service, a table, a wood stove and some bunk beds used by hikers and cross country skiers located deep in the wilderness backcountry. And there are elegant cottages which are totally self contained with multiple rooms, lofts & kitchens with every possible amenity provided.
Some of the extras that are available with some of the cottage rental accommodations may include a main lodge, tours, guides, activity building, gift shops, food store, restaurant, spa, golf course, ski hill and sporting equipment.

Canada cottage, chalet accommodation Booking Tips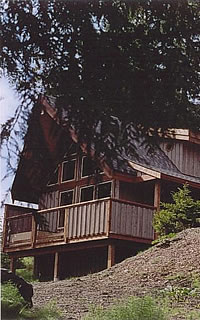 - confirm what the price of the accommodation will be with taxes included?
- book accommodation prior to your arrival, especially for weekends and holidays.
- confirm arrival time and key pick up.
- is there an office on site? Who is the contact person for problems if they should arise?
- for families with children confirm activities that are nearby.
- request a walk-through of cottage with your Host prior to moving in.
- confirm there are phones and television. (if important)
- confirm parking situation.
- is there any internet connectivity, cell phone service?
- is there a cleaning crew every morning?
- is there laundry facilities on site? (if important)
- are there any special pricing packages if you stay longer?
- in the winter: request that the heat be turned on prior to your arrival.
- in the winter: make sure cottage is winterized.

- and please mention you saw their Cottage on the Canada EH Tourism Network.