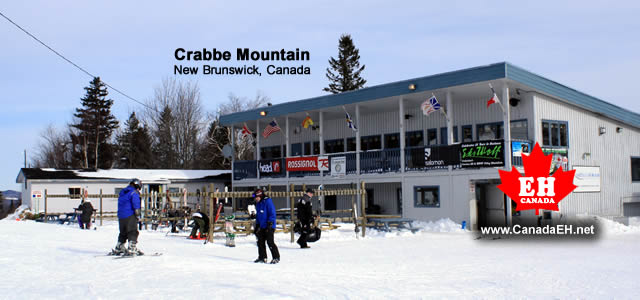 Mount Crabbe Snowboarding and a Crabby Drive Home
Here at our winter office in New Brunswick Canada we have been fortunate enough to receive some really good snowfalls in the last couple of weeks. The snow melts some and then more falls just like a broken record over and over again (dating myself). But this time it looks like the snow is sticking around to visit this time.
Our section of New Brunswick is at rest under a blanket of snow as we speak. It looks heavenly. The streets are silent. Vehicles are in hibernation. People are walking about all bundled up. Some smile, most don't. Why is that?
The wind blows, off and on, carving snow sculptures, snowdrifts while still finding time to polish the icicles clinging to rooftops.
Most of the snow floats down like a lost feather falling from a bird high above and then, at times, the snow gets all moody and plummets to the earth – wet, heavy and flying sideways. In between the moods of nature the clouds open up and the skies shine blue warmed by the sun… and all around is POW (powder snow).
What is one to do? There is always work and then there is play. But life cannot be all about work… so lets play. We are going snowboarding!
On Monday, we set out to snowboard Mount Crabbe in New Brunswick. The information we had gathered indicated it would take us 1.5 to 2 hours to get to the hill from Saint John.
But… after further research… we concluded that if we went in the other direction we could take a short cut by hooking up with some backroads near St. George, New Brunswick. By all accounts it looked like a shouter route. Yeah team!
Boards packed up, cameras loaded we set out for the hill at 8 A.M. Roads were good – clear and dry. A quick stop at Timmies for a coffee and we were on our way. 3 hours later we were lost. Ugh! We did a tourism no-no. We assumed once we hit the community nearest the ski hill there would be signs. Not so lucky on this assumption.
It started off well. We followed the little blue ski man sign from the village towards the hill with no issues. Where we had a problem was when the signs just stopped cold and left us with nothing.
We knew something was wrong as we were on a road following a river with no hill in sight. You can not get any lower in elevation… but we managed to. A conundrum… so we backtracked to the nearest store and asked for directions. Mission accomplished!
At the hill I was so excited I was in shivers, but not because it was cold but because I had no control of my adrenaline. I could feel it racing through my body. It was pure snowboarding glee.
The runs were mostly groomed. We stayed on the black diamond and double blacks. It is important to note that when skiing in different parts of the country that rating of ski runs is not universal. Do not assume a double black in Atlantic Canada is anything as steep or tough as Western Canada ski hills because they aren't. That would be a very foolish assumption. Some black diamonds in Atlantic Canada are more like green and blue ski runs on some BC and Alberta hills.
The black diamonds on Crabbe Mountain were excellent for the Atlantic Coast. We had a blast! Some were steep and fast. All were very well groomed. There was not much for glades or tree runs, which we prefer, but it was still an exceptional outing of playing with our edges and getting some air time. For extreme boarders the Crabbe Mountain snowboard park is exceptional with 3 levels of jumps, rails, drops and more.
We managed to get in 9 runs for the day. Not bad for the first ski of the year. Legs were burning though and we wanted to get back before dark… and before the next big round of snowfall forecasted for that night arrived.
What we learned on our trip to the mountains was that Crabbe Mtn. was not 1.5 hours away from Saint John; that the backroads were not quicker and that on the way home the highway was the easiest route. LOL. So we thought.
We dragged ourselves to the vehicle and began to change out of our gear when the first snowflakes began to fall. By the time we were at the highway connector the roads were covered – 5 cm  deep – in snow. The snow was not the wet, bullet fast falling snow. Nope, no slush here. It was the light, big floating flakes which accumulate fast…. and they were.
Locked into 4 wheel drive, it was 60-80 kilometres an hour for us most of the way home. The roads had finally given over to the snow. All we could see out of our window was a waterfall of snowflakes. The highway lines separating traffic were gone. Visibility was low. We were flying blind as they say.
All we had to get back home was the trail of bread crumbs left behind from tire tracks and the brake lights in the distance. It was now a single lane highway of tire tracks. One car after the another. When the snow let up for a second we could see a single line of headlights disappear into the distance.
I am confident in my driving skills in the snow. Have been in far more challenging snow conditions. What scares me is everyone else driving in the snow. During our adventure home, there were some vehicles passing many of us on the little-used passing lane (a lane which had disappeared & was covered in virgin, deep packed snow – undriven, unproven). It was an accident waiting to happen. What are some people thinking?
https://www.ehcanadatravel.com/blog/wp-content/uploads/2013/02/crabbe_lodge.jpg
300
640
Greg "Gug" Girard
https://www.ehcanadatravel.com/blog/wp-content/uploads/2020/01/ehcanada-logo-340x156-1.png
Greg "Gug" Girard
2013-02-17 13:19:42
2013-05-26 02:59:19
Mount Crabbe Snowboarding Wonderland of Weather